Contact | About Us | Order Info | Quotes | Links
Custom playing cards are a unique and innovative product. They can be used in dozens of ways, such as to promote your company, as a gift for birthdays, anniversaries, and more, as custom wedding favors or even as trade show giveaways. These are only a few ways in which custom playing cards can be used.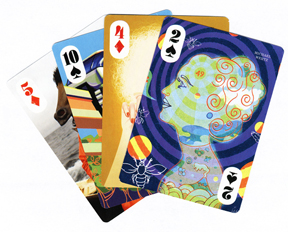 Our company uses only the best of the best card stock quality for our custom playing cards orders. Our cards use the standard 300 GSM, the same stock used by the typical Bicycle card deck you may see in stores. All personalized playing card orders come with white window tuck boxes. We offer helpful customer service who will happily help you choose the cheapest option for your needs. Our company is the expert on customized playing cards.
Along with the cards themselves, our talented on-site artists can listen to your needs if you don't have your own design and create a design just for you. Our artists have done a myriad of different card projects, ranging from custom playing card artwork for the Wall Street Journal to custom logos for new businesses.
Unlike other playing card sites on the Internet, Ad Magic Inc. has over 20 years' experience in the field. We have worked with everyone from the producers of movies and television shows to the excited bride ordering a small run of cards as wedding favors for her wedding.

Our company prides itself on the thousands of satisfied customers we have helped over the years. Where other companies screw up, we are here to save you!
Custom playing cards are a fantastic product to use for the following: